27 Feb 2021 Leave a comment
11 Mar 2019 Leave a comment
by jgivhan in Interviews with Mother Writers, Trinity Sight Tags: dark fairy tale poetry, Dystopian literature, Indigenous fiction, Jenn Givhan fiction, Jenn Givhan poetry, Latina writer, Latinx literature, Los Alamos, Magical Realism, Mythical literature, Physics fiction, Physics poetry, Rosa's Einstein, Southwestern literature, Trinity Sight
"I'm so grateful that my own inner journey connected with the ancients'—and that I've been able to glean a different perspective on dystopian fiction from a Latinx/indigenous perspective, centering us in our lands."
I have two books out this year, & in these two interviews I discuss the processes of writing poetry & fiction & black holes!
Interview with Inklette Magazine for International Women's Day:
"Alongside these forebears, I strive to weave together a multilayered song of endurance, survival, and, ultimately, celebration sung by the many women of color working together in the resistance."
Interview with Arizona University Press:
"This collection is a lovesong for all precocious girls wandering the deserts, creating ruckuses and circuses and finding love where before there was only pain— for all the lost daughters of time, reclaiming ourselves, singing ourselves, triumphant. This is our hero's journey."
You can buy ROSA'S EINSTEIN from Amazon or any major bookstore, and preorder TRINITY SIGHT now.
All the writerly love & light,
Jenn  ♥
07 Feb 2019 2 Comments
by jgivhan in Trinity Sight Tags: Blackstone Publishing, Indigenous Literature, Jenn Givhan, Latinx science fiction, LatinxWriters, Motherhood literature, Mythical literature, People of color science fiction, Poet novelist, Science and literature, Trinity Sight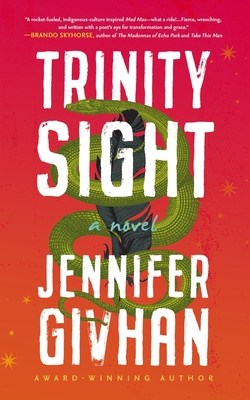 My debut novel TRINITY SIGHT is available for pre-order from Blackstone Publishing! I'm over-the-moon!!! Here is a link for IndieBound, which helps support small bookstores. It is also available on Amazon.